Rent Storage
We are excited to have you join us. Please choose from our available units. Desired size not available?
Contact our office as we may have units coming available in your desired size very soon.
Military Discount
As a "Thank You" for your services to our country, we offer a 10% discount to all active duty service
people with a military ID. This discount will only be valid for the duration of active duty.
Indoor 1st Floor (5 x 5)
Building A 1st Floor
Size of a small closet
Indoor 2nd Floor (5 x 5)
Building A 2nd Floor
Size of a small closet
Indoor 1st Floor (5 x 8)
Building A 1st Floor
Size of a small walk-in closet
Indoor 2nd Floor (5 x 8)
Building A 2nd Floor
Size of a small walk-in closet
Indoor 1st Floor (5 x 10)
Building A 1st Floor
Size of a medium walk-in closet
Indoor 2nd Floor (5 x 10)
Building A 2nd Floor
Size of a medium walk-in closet
Indoor 2nd Floor (10 x 10)
Building A 2nd Floor
Size of half a standard one-car garage
Drive-up (10 x 15)
Exterior drive-up access
A little smaller than a standard one-car garage
Drive-up (10 x 20)
Exterior drive-up access
Size of a standard one-car garage
Drive-up (15 x 15)
Exterior drive-up access
Size of a standard one-car garage
Drive-up (13 x 20)
Exterior drive-up access
Size of a standard one-car garage, but a little wider
Drive-up (10 x 30)
Exterior drive-up access
Size of a 1½ car garage
Drive-up (10 x 40)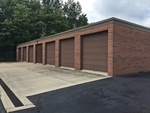 Exterior drive-up access
Size of a standard two-car garage, parked in tandem